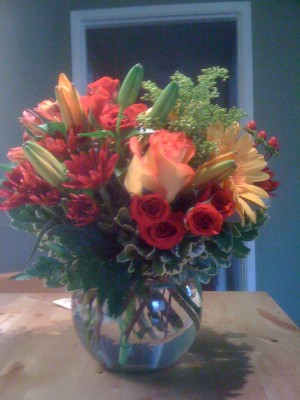 Sometimes this quest to heal my eyesight feels really hard. There are days that I don't want to have to spend forty-five minutes doing acupressure and eye exercises and juicing. And some mornings, a pile of greasy bacon washed down with a pot of coffee sounds really really GOOD.
Last week was a relapse week. I drank wine or beer nearly every night, downed an entire basket of fries at a local brew pub AND had three days where I drank two cups of coffee instead of the one I now allow myself. And despite my commitment to work out every day, I only managed to plug in my Jillian Michael's Ripped in 30 workout CD three times over the past seven days.
So here I am at the start of a new week, trying to get back into the groove and not punish myself too much for my continued scew-ups over the past few days. I just keep repeating this question in my mind: What if someone could guarantee me that I could keep my eyesight if I just eat lots of raw organic vegetables, eliminate processed foods, cut down on meat and dairy, limit my coffee and wine intake, exercise daily, reduce stress, do my eye exercises, limit my reading/writing time, and keep gong with acupuncture and Chinese herbs? Would it still be so hard? Or would the guarantee of eyesight make it a no-brainer?
Putting this in writing is helpful because while I don't know for certain that all of the changes I've made and steps I'm taking will save my eyesight, I've had enough experience with this disease and enough dire conversations with retinal specialists to know where my eyesight is headed if I do nothing. And while doubt sometimes creeps in, I know that I've already benefitted (eyesight included) since embarking on this eyesight-healing quest.
My sister, Connie, once sent me this poem to keep me going on my book-writing quest on those dark days when finishing it and getting it published seemed like an impossible feat. I'm sharing it here as a reminder to myself and anyone reading this that ANYTHING is possible as long as we keep pushing forward.
Don't You Quit
When things go wrong, as they sometimes will,
When the road you're trudging seems all uphill,
When the funds are low and the debts are high,
And you want to smile, but you have to sigh,
When care is pressing you down a bit-
Rest if you must, but don't you quit.
Success is failure turned inside out -
The silver tint in the clouds of doubt,
And you never can tell how close you are,
It might be near when it seems afar;
So stick to the fight when you're hardest hit -
It's when things seem worst that you must not quit.