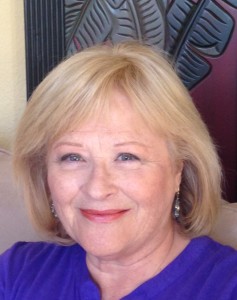 I've heard so many great things recently about Gail Brent, a San Diego-based acupuncturist who treats RP and other degenerative eye disorders, that I knew needed to learn more. Last week I reached out to her for an interview and instantly connected with her. She's warm and genuine, and comes highly recommended by fellow eye acupuncturist Andy Rosenfarb and the RP patients who see her.
IR: How long have you been treating degenerative eye conditions?
Gail Brent: Since 2003.
IR What interested you in this particular field?
Gail Brent: When I was four, I had eye surgery on one of my eyes because it was crossed. It was a very traumatic experience. Today, that same surgery wouldn't even require an overnight stay. But back then, I had to spend ten days in the hospital with both eyes bandaged. It was so traumatic for me that for years, I had nightmares that I would wake up and not able to see. It stuck with me throughout my life. So when I read a magazine article on Dr. Per Otte that focused on the micro-acupuncture procedures he had developed to treat blinding eye disorders, I thought, "I have to learn this." I was already an acupuncturist so I understood the tremendous healing power of acupuncture. I called his office and asked if he would be teaching a seminar anytime soon. The woman at the desk said yes, to give her my name and number. I did and never heard from her. But I was determined and every few months, I called again and repeated my request. I did this for three and a half years. The last time I called, the woman said, "Let me have him call you." And he did. He told me he had two others who wanted to train with him and he offered to let me join. It turns out that one of the others being trained was Andy Rosenfarb, who I knew from acupuncture school.
 IR: Can you tell me about your RP treatment protocol?
 Gail Brent: I use micro-acupuncture and electrostim, a micro-current stimulation unit that patients can also purchase and continue to use at home.  I also incorporate energy work and do a lot with nutrition and supplements and Chinese herbal formulas. In addition, I've added some points to treat the constitution of the person. We know something's going on with the eyes, but I also look at what else is going with the person that needs balancing. When it comes to RP, the most common issues I see deal with the kidney and liver. I also see a lot of emotional stress with RP patients. Stress plays such a huge part in eye disease—it affects the liver, and the liver affects eyes, so I have to work with all parts of that.
IR: How long are your treatment sessions?
Gail Brent: I usually offer them in one or two-week series. I treat three times a day, Monday to Friday, with a total of fifteen treatments each week. Each treatment is about thirty minutes in length . I also do energy work with each patient. I spend a lot of time with my patients because I want to get to know them to see what else might be gong on with them.
IR: How often do your RP patients return for treatment?
Gail Brent: For RP, I would definitely say it's best to come two weeks for the first visit because RP patients really need the kick-start. Then I advise that they come for a week every three or four months for at least a year, and then we can see how it goes from there.
IR: What's your success rate treating RP patients?
Gail Brent: I've never thought of it that way, but I would say about eighty percent of the RP patients I treat respond to the treatment. But the amount of improvement varies with each person, just like any other kind of treatment. Diet, nutrition, exercise, and the emotional state the person is in all plays into it, and then it depends on if their body responds to treatment. What I tell people with RP and Ushers is that, because there is nothing Western Medicine can do right now, they should at least give it a try. The wonderful thing about this treatment is that there are no negative side effects, no way it makes their condition worse. Either their vision improves, stabilizes or the treatment doesn't work. You never know until you try and I've seen wonderful miracles happen.
IR: Tell me about the energy work you do.
Gail Brent: It's called The Reconnection. Dr. Eric Pearl is the one who developed this particular form though I've been interested in energy work since I was little. About two years ago, something inside me said to incorporate this into my treatment, so now I do it on every patient. I don't know how it's directly affecting their eyes, but I see it helping their emotional state, which is so important to their overall eye health.
IR: How much does your treatment cost?
Gail Brent: I charge $1,200 for one week and $2,400 for two weeks. I keep it as affordable as I can because I know people struggle just to get here. I recently had a patient who came all the way from South Africa. I would love it if someone down there started treating degenerative eye disorders to make it more accessible. More trained acupuncturists need to enter this field and help people dealing with degenerative eye diseases.
For more information on Gail Brent, please visit her website: www.healthandvision.com.  If you'd like to talk with her or learn more about her treatment. call (619) 276-3661 or email her at gbrentlac@aol.com